Dynamic Air Technology
Dynamic Air Technology, Inc. is dedicated to providing superior quality Air Handling Equipment. Each unit is fully customized and designed to meet and exceed customer requirements. Being fully customizable and taking on projects where competitors tend to pass on, Dynamic Air Technology has adopted the slogan "nothing is impossible".
Brand Details
Dynamic Air Technology (DAirTech) was founded in the year 2002 with the goal to manufacture high quality and reliable custom air handling equipment at affordable prices. Upon opening, DAT soon became known for their unique solutions and innovative ideas to common problems facing air handling units. With several Engineers working with customers, DAT ensures satisfaction by providing the most efficient and cost effective unit that will last for many years to come.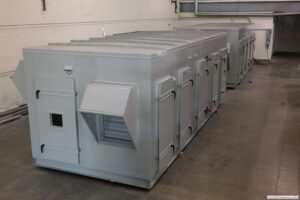 Specification/Products
Custom Air Handling Units
Multi-Zone AHU
Make-Up Air & Energy Recovery Units
Deep Bed Air Units
Chiller Enclosures
Quick Lead Times
Knock-Down Construction Available