Marlo
Trusted by the United State's Department of Defense, Marlo undergoes the most stringent tests to ensure their customers receive the highest quality products, ranging from Air Handling Units, Heat Exchangers, and a variety of AHRI Certified Coils.
Brand Details
Since 1925, DRS Marlo Coil has manufactured quality heat transfer, refrigeration, and air handling equipment for industrial, commercial, utility, and marine markets.
Our custom engineered Marlo heat transfer solutions are used in a variety of configurations to cool, heat, and dehumidify air streams for process and building comfort.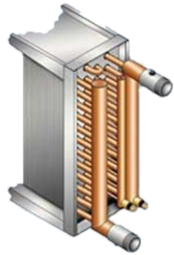 Specification/Products
Air Handling Units
Shell & Tube Heat Exchangers
Face & Bypass Coils
Steam Coils
Turbine Inlet Coils
Refrigerant Coils
Fluid Coils
Process Coils