Advance Industrial Refrigeration
Advance Industrial Refrigeration was founded in 2008. Located in Augusta Georgia, AIR is a full service manufacturer of HVAC equipment. AIR specializes in designing and building equipment for industrial processes  where down time is not an option. AIR build robust HVAC equipment designed for the harsh realities of an industrial plant. Our air conditioning units specialize in controlling temperature and humidity at the same time. Our chillers are designed to be serviceable and maximize up time. We also have specialized chillers and make up air units designed to save energy to reduce operating costs.
Brand Details
In addition to Modular Chillers and Industrial AC units, AIR also manufactures Active Heat Recovery systems.
Active Heat Recovery (AHR) is a new application of the refrigeration cycle – used to recover energy for ventilation purposes. Unlike enthalpy devices, no moisture is directly transferred between airstreams making it an ideal technology for sensitive environments such as hospitals and labs (no cross-contamination).
Since AHR uses a compressor, it can extract more energy from the exhaust stream resulting in additional available heat. In most instances, no "top up" energy is required which means drastic reductions in energy use and emissions (as well as a simplified installation and compact footprint).
AHR thrives in these primary environments:
1. Where energy savings and GHG emissions are a priority.
2. When no cross contamination is desired: bathroom exhaust, lab fume hoods, hospitals.
3. Compact installations where traditional units will not fit.
AIR's Active Heat Recovery has been extensively field tested, and is ready for integration into your next project!
Below is a 30-minute webinar where you can learn more about how this technology works: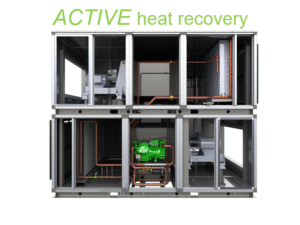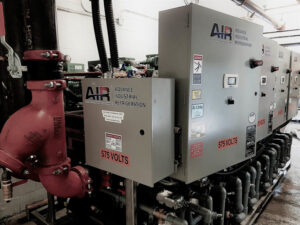 Specification/Products
Modular Chillers & Condensing Units
Active Heat Recovery
Industrial, Modular, and Wall Mounted AC Units
Data Centre Units