ALFA LAVAL
Alfa Laval's heat transfer solutions are not only optimized for your application, they are even customized to your specific needs. Whether you need a highly advanced piece of optimized engineering or the most cost-effective solution possible, Alfa Laval's dedicated R&D teams, global network and more than 130 years of experience will make sure you get exactly that.
Alfa Laval Plate Heat Exchangers are a compact, efficient solution for heating, cooling, evaporation and condensing in the HVAC/R industry.
Brand Details
Alfa Laval is a leading global provider of specialized products and engineering solutions.
Our equipment, systems and services are dedicated to helping customers to optimize the performance of their processes. Time and time again.
You want to be the best at what you do, and we can help you get there.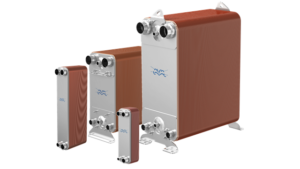 Specification/Products
Brazed Plate Heat Exchangers
Gasketed Plate-and-Frame Heat Exchangers