AIRSYS
AIRSYS COM4T Packaged Heat Pumps are designed with advanced inverter technology to provide variable capacity and ensuring quiet operation, energy efficiency, comfort control and reliability.
COM4T heat pumps are wall mounted packaged units, including indoor and outdoor series for different applications.
The COM4T units deliver real-time demand cooling and heating capacity according to the needs of the environment.
The variable capacity system continuously adjusts with small temperature fluctuations increasing the accuracy of temperature control for more advanced human comfort.
The refrigerant piping and internal wiring are factory assembled and thoroughly tested, and all components are readily accessible for easy service and maintenance.
Whisper Quiet Operation
Inverter Driven Technology
Designed for Human Comfort
Energy Efficient
Time Saving Serviceability
Brand Details
AIRSYS is one of the leading international ICT cooling solution providers and provides different solutions for data centers, mobile shelters, outdoor telecom cabinets, large medical equipment and other industrial and institutional applications. AIRSYS products are known around the globe for their excellent long-term reliability. With a rich experience in precision HVAC, the AIRSYS team developed the COM4T units with strong adaptability for the harshest environments. This guarantees year-round comfort for the classroom.  Equipped with best in class components from around the world, the COM4T unit can realize Mean Time Between Failure (MTBF) > 80,000hrs.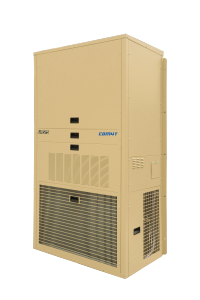 Specification/Products
Indoor and Outdoor Wall-Mounted Packaged Heat Pumps
Inverter Driven Technology, Variable Capacity
Available with many options, including: ERV, CRV, Economizers